I strive to provide the highest quality of orthodontic care, and help each patient achieve the most beautiful smile possible. Because we are not a huge corporation, I can take pride in providing personalized and attentive care. This allows me the fun of seeing patients and their families out in the community and knowing almost all by name.
Personal Background
I was raised on the Kitsap Peninsula along with four brothers and one sister (all of whom ended up needing braces, by the way). Among many things, I am grateful to my parents for seeking orthodontic treatment for all of us.
After spending time in amazing places throughout the country as part of my orthodontic training, I realized that Washington would always be home. In 2004, my growing family settled down in University Place where I began my career at what is now Weller Orthodontics.
My wife Lori (a registered nurse), and I have been blessed with four children and have dedicated ourselves to close involvement with the community though work, schools, and our local church. In our spare time, we enjoy hiking, biking, and simply spending quality time with family and friends. One of our favorite activities is jumping on the trampoline in our backyard.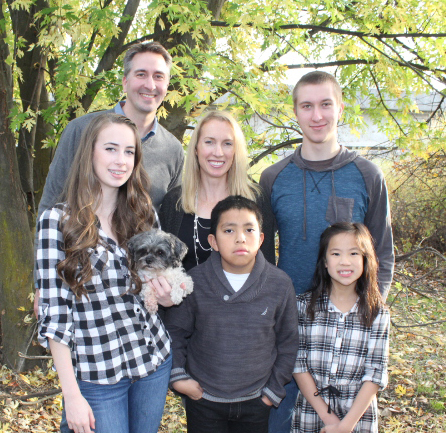 Education and Qualifications
Bachelor of Science in physiology, magna cum laude – Brigham Young University
Doctorate of Dental Surgery with honors – University of Washington School of Dentistry
Master of Science in orthodontics – University of Oklahoma Health Sciences Center
Diplomate, American Board of Orthodontics
Professional Affiliations and Memberships
American Association of Orthodontists
American Dental Association
Omicron Kappa Upsilon, the National Dental Honor Society
Pierce County Dental Society
Washington State Dental Association
Fun Facts
I am red/green colorblind (or as I like to call it, "color weak"). Fortunately, the only way this impairs my work capabilities is in my inability to coordinate outfits.
Having spent time in Florida and Guatemala, I speak conversational Spanish.
I have had my private pilot license in the past (though little time to put it to use with a busy career and family).
I can cut my own hair! These days I mostly use this skill only on my two sons.
A Legacy of Smiles
My family has been sculpting 250 years of Washington smiles. How is this possible, given the profession of orthodontics has only been around for the past 100 years? My grandfather, Avard T. Fairbanks, was a prolific sculptor whose works are on display in both the Capitol Building in Washington D.C. and the Washington State capitol building. One piece you will find in the capitol rotunda in Olympia is a colossal bust of our first president, George Washington, for whom our beautiful state was named.
Like my grandfather, I have a passion for sculpture; only instead of clay, I mold living, breathing smiles with modern orthodontic appliances. As I apply both the art and science of orthodontics, I and my team make smiles come alive!